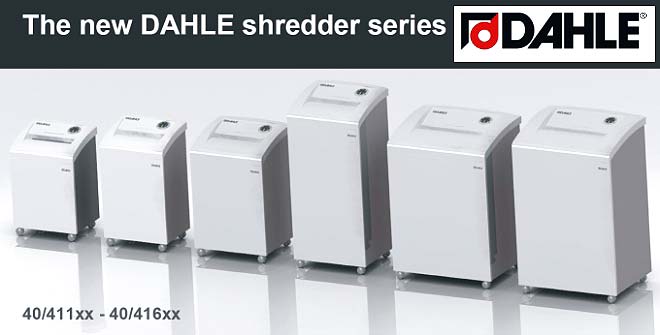 DAHLE CleanTEC Technology
Introducing the next generation of innovative paper shredders, DAHLE has developed the CleanTEC filtration technology and built it into a brand new range of paper shredders to ensure that offices, big or small, are safer environments to work in for the future.
The brand new 40 and 41-series paper shredders take top performance to a whole new level and their high standard of operating convenience leaves no margin of doubt regarding their modern design and impressive performance specifications.  The deluxe 41-series paper shredders benefit from both DAHLE's SafeTEC safety system and DAHLE's new CleanTEC filtration system to reduce fine dust produced from document shredding.


To access the CleanTec filter (shown left) just open the back of the shredder, lift off the filter housing and pop in the new filter.
Dahle CleanTec Shredders gives you more...
More health protection: Innovative filter system reduces fine dust emissions for better air quality in the office. 
More supervision: Paper volume is constantly measured for an uninterrupted workflow. 
More safety: Automatic acoustic switch-off function responds to calls for help, or knocks on the casing in an emergency that will immediately stop the motor. 
More convenience: Regulating cutter lubrication is made easy with an automated integrated oil reservoir. 
More control: Quickly adjust shredder settings with a clearly structured multifunction button. 
More environmental awareness: CDs/DVDs and cheque cards separated automatically into separate waste containers.
More manoeuvrability: Move the shredder easily and safely thanks to castors with fixing brake.
Invisible Threat: Fine Dust
Every sheet of paper that gets shredded produces particles of fine dust that are invisible to the naked eye, yet pose a significant health risk. Ultra-fine particles carried through the air into the respiratory tract can cause allergic reactions and other illnesses. These particles are so fine that it is easy for them to find their way into the lungs, and within them be absorbed into the bloodstream, which increases the risk to health significantly.
DAHLE proudly presents its new document shredders containing their innovative CleanTEC filtration technology to provide a solution to this problem by reducing exposure to find dust in the office.
Clean Air - DAHLE CleanTEC 41-series
DAHLE's CleanTEC integrated filter system for reducing fine dust in the 41-series models addresses the problem directly where it occurs. Fine dust particles are absorbed directly above the cutters and fed through a closed system into the filter at the rear of the paper shredder where they are permanently bound. This filter consists of special 3-ply non-woven material that is completely recyclable. Dahle developed this system in cooperation with Freudenberg Filtration Technologies, one of the world's largest filter manufacturers with headquarters in Germany.
Benefits at a glance:
6 model options with 60 models
40-series - standard version
41-series - deluxe version with DAHLE CleanTEC fine dust filter system and the DAHLE Safe Technology safety package
paper feed widths for all requirements
6 shred sizes covering security levels 2 to 5 (to DIN 32757) for reliably destroying internal to sensitive documents, and security level Dahle S6 for top-secret documents
high shredding capacity: up to 45 sheets of paper
large waste-collection volume: up to 160 litres
lower running costs: automatic energy-saving mode after the shredder has been idle for 10 minutes, switching off completely after 30 minutes of idle time
significantly lower operating noises provide a pleasantly quiet working atmosphere
Like to read the brochure? Download Dahle CleanTEC Brochure here.