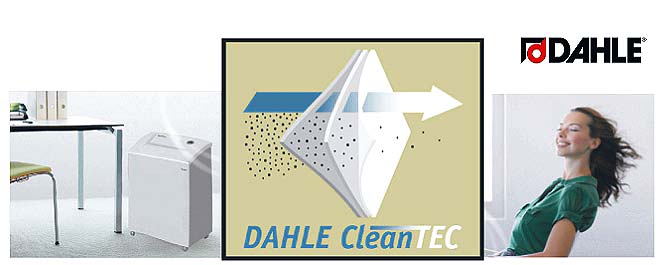 DAHLE is known for its extensive range of high quality paper shredders suitable for any purpose, whether it be secure shredding, quick shredding, mass shredding, or a combination of all three. DAHLE further developed their shredders by launching their innovative SafeTEC document shredder range, designed to enhance user-safety, extend shredding machine life, and improve shredder performance. Well DAHLE has done it again...


Introducing Dahle CleanTEC Technology
DAHLE understand the potential health risks associated with document shredder usage in terms of fine dust particles produced by document shredding, and in response have launched a new range of document shredders that utilise DAHLE's new CleanTEC dust filtration technology. Show me the range now.
Why has Dahle developed CleanTEC?
DAHLE has responded rapidly to an analysis that exists of the German Federal Environmental Agency concerning emissions and activity analysis on particulate matter, it is called 'analysis for the Development of European Clean Air Policies - National Contribution to the Design of the CAFE-Programme under special Consideration of Fine Particles and the Compliance with the NEC Directive and the Convention on Transboundary Air Pollution'. In response to this, DAHLE created the CleanTEC dust filtration paper shredder range to ensure compliance with potential future health & safety workplace regulations.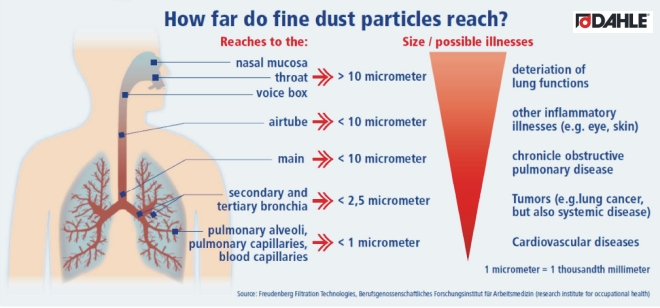 Fine dust consists of a mixture of tiny particles that are smaller than 10 thousandth millimeters

 

Fine dust is not a unitary substance, but a mixture of several components. These include carbon black, heavy metals, organics, dioxins etc.

 

The smaller the diameter of these dust particles the deeper they infiltrate the lungs.They stick to the smallest bronchia and to the alveole and may harm these vunerable tissues.
Dahle CleanTec Dust Free Technology - the fine detail
When documents are shredded, fine dust particles that aren't visible to the naked eye are released into the air and these particles can be inhaled by individuals, posing a significant health risk to them as these particles are so fine they're capable of infiltrating the blood stream via the lungs.

DAHLE CleanTEC shredders come with a unique dust filtration technology that will absorb 75% of fine dust particles as they are produced, permanently retaining 94% of those particles within the filter resulting in cleaner air, and a safer work environment.
More on the Dahle CleanTec Shredding Machines here
Read the Dahle CleanTec Brochure here
DAHLE Versatility
DAHLE have retained their versatility as they have also launched a second line of products containing both DAHLE CleanTEC and DAHLE SafeTEC technologies, so that you can be sure that your shredder is safe to use by all accounts. Without compromise.